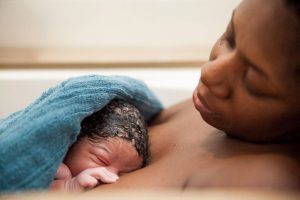 Marin City Health and Wellness Center (MCHWC) is one of our AMAZING clients and this summer they opened their new Family Birth Center. JayVon Muhammad is the CEO of MCHWC; she is a midwife and is devoted to reducing disparities for African American women as well as other women of color and those living in poverty. The Marin Family Birth Center is Marin County's first and only freestanding alternative birth center increasing access to alternative childbirth choices. Prior to its opening there were only two options available to expectant mothers in Marin County: the hospital or a home birth. The mission of the Marin Family Birth Center is to make midwifery care as accessible as possible by integrating midwifery care into public health.
The Birth Center has two suites complete with birthing tubs and beds and they accept all forms of payment allowing any mother, regardless of income level, to have the birthing experience of their choice. They consider this a social justice issue and are changing the world one mom at a time by offering longer prenatal and postnatal visits as well as education around childbirth allowing families to make informed choices for what is right for their birth.
African American women have the worst health outcomes in almost every demographic but that is unacceptable to MCHWC. They are committed to giving choices and control of their health care back to the mother and family. Brave doesn't begin to describe the way JayVon and her team at MCHWC charge through obstacles most would find impossible. The Marin Family Birth Center and all the beautiful mamas and babies served there are proof of this. What an honor it is for The Write Choice Network to be a part of all the phenomenal things Marin City Health and Wellness Center does!
For more information on the Marin Family Birth Center or to see more pictures of the families and new babies click the link below.